Joe Girardi Goes After Heckler After Yankees Loss To White Sox: 'Shut Up I'm Doing An Interview' (VIDEO)
by Miller Rhodes | on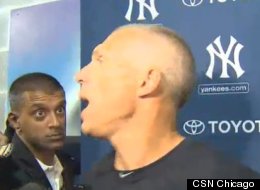 Joe Girardi got fed up with a heckler interrupting his postgame interview.
New York Yankees manager Joe Girardi likely wasn't in the best of moods as he began his postgame interview after his team lost to the Chicago White Sox, 2-1, on Wednesday night, capping a three-game sweep. Nobody likes getting swept, especially when your team is driving for a playoff spot.

Another thing that nobody likes is being interrupted. When a heckler hollered at Girardi as he conducted his postgame Q&A, the 47-year-old manager yelled right back.
"Hey, hey, hey, shut up. We're doing an interview!" he screamed as waded through the media scrum toward the loudmouth who appeared to be part of a group of fans within the bowels of U.S. Cellular Field.
But Girardi's explosion was brief as he quickly returned to the interview, praising White Sox pitcher Chris Sale who struck out 13 in 7.2 innings.
"He's got good stuff. He's got a good fastball, a real good breaking ball and a changeup," raved Girardi, not missing a beat after scolding that fan. "And he mixes and he's done it all year long."
Click here to view original content
|——————————————————————————————————|
Learn how we've helped thousands of "average" people
finally make money online
(with a brand new "no selling" approach)
CLICK HERE to Earn 100% Commissions
|——————————————————————————————————|