Walmart Strike Memo Reveals Confidential Management Plans
by Randall Hinds | on October 26, 2012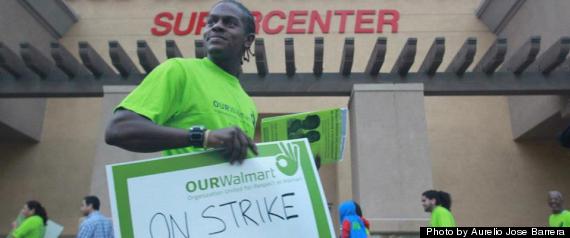 Another great article brought to you by Jazmin Ramirez.
Walmart launched a large-scale response this week to a series of unprecedented labor strikes, according to a confidential document obtained by The Huffington Post.

The seven-page internal memo, issued Oct. 8, is intended for salaried employees only, and contains instructions on how to respond to strikes by hourly workers that spread to 28 Walmart stores in 12 cities earlier this week. The strikes were the first by Walmart retail employees in the company's 50-year history.

The memo makes clear that Walmart, the world's largest private employer, views the labor protests as a serious attack, a message that runs contrary to the company's public comments that the strikes are mere "publicity stunts," as Walmart's vice president of communications David Tovar told The Huffington Post Tuesday.

"As you know," the memo opens, "activists or union organizers have been trying for years to stop our Company's growth and to damage our relationship with our customers and members. One of the activists' or union organizers' tactics is to try to disrupt the business by urging our associates to participate in a walkout or other form of work stoppage."

The majority of the memo is aimed at instructing managers not to violate workers' legal right to engage in concerted activity, or non-union labor organizing. Managers are directed not to "discipline" employees who engage in walkouts, sit-ins or sick-outs.

Legal experts said the confidential memo shows an unprecedented level of caution from a company that has taken harsh stances towards employee attempts to organize in the past.

"Walmart probably has in mind that the Obama NLRB [National Labor Relations Board] often sides with unions over management," said Lance Compa, a labor law professor at Cornell University's School of Industrial Relations in Ithaca, N.Y. "So they're being extremely cautious."

The memo is peppered with Walmart management jargon, offering a window into the secretive corporate culture built by founder Sam Walton. Managers are reminded over and over of the acronym TIPS (Threaten Intimidate Promise Spy) when dealing with potential labor organizing by hourly-wage "associates." The widely used human resources term serves to remind managers that they cannot, by law, threaten or intimidate workers who organize, promise them benefits if they stop organizing, or spy on their activities…Read More At: http://www.huffingtonpost.com/2012/10/13/walmart-strike-memo_n_1962039.html

Walmart also could have ulterior motives for considering workers rights, such as covering itself in upcoming Unfair Labor Practice proceedings. "Walmart could say, in effect, 'Look, it says right here, we told our supervisors 'don't retaliate' –- so we must be innocent," said Compa, the law professor. Compa noted that this is a possible motivation for Walmart to have put such "extremely circumspect" manager instructions down on paper at a time like this.
Please do comment below and let us know what you think about this article. – Jazmin Ramirez
Walmart Strike Memo Reveals Confidential Management Plans – huffingtonpost.com/2012/10/13/wal…

— Paul Henderson (@VizFoSho) October 25, 2012
|——————————————————————————————————|
Learn how we've helped thousands of "average" people
finally make money online
(with a brand new "no selling" approach)
CLICK HERE to Earn 100% Commissions
|——————————————————————————————————|